Delivering Rainbow Babies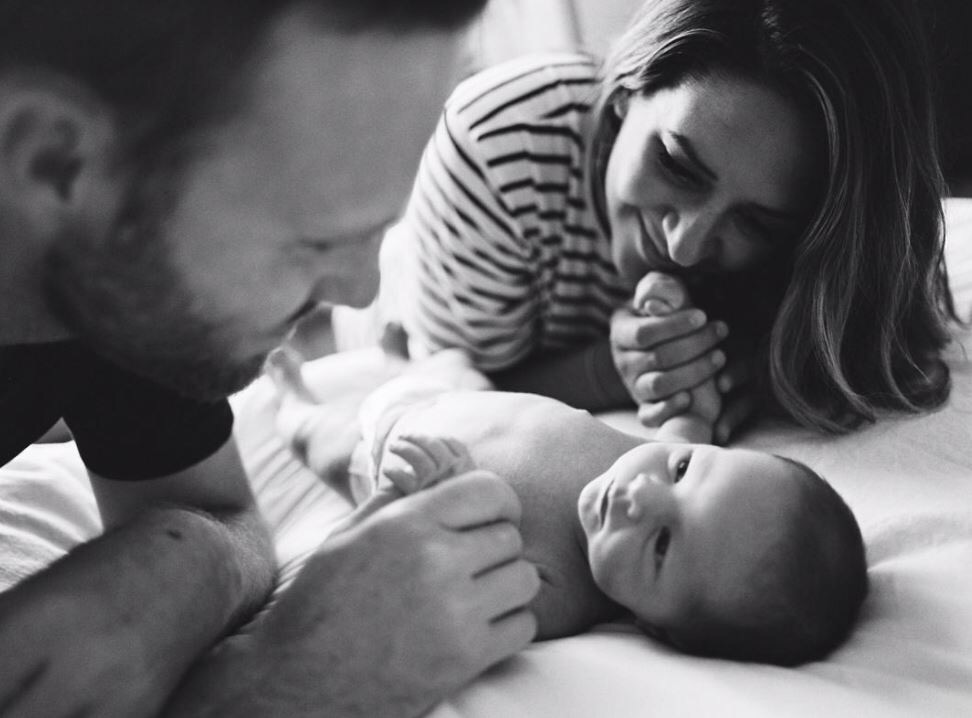 Who did you work with most closely during your pregnancy and birth?
Dr. Lamoreaux – He showed me what a good doctor is. Having had some incredibly bad experiences with my first Ob, he helped me to see that I am important and I do have a voice in my own pregnancy. He allowed me to be the crazy pregnant lady without feeling stupid about it.
Tell us about your pregnancy, your labor and birth. Did you have any complications?
Due to my first pregnancy ending in full-term stillborn, I decided to change practices because of the treatment I received there. We switched to Valley and Dr. Lamoreaux became my doctor. We made a plan for me to see a Maternal Fetal Medicine doctor the next time I got pregnant. My complications from my first pregnancy consisted of being diagnosed with intrahepatic cholestasis of pregnancy and later finding out after a miscarriage, being diagnosed with antiphospholipid syndrome. So with my third pregnancy, I met with Dr. Lamoreaux and an MFM and followed the plan the MFM sent out for me. I was monitored very closely by both doctors, had to give myself a shot of blood thinner every day in my abdomen and was frequently tested for cholestasis. In  my third trimester, I was given weekly NST's and was induced at 37 weeks.
Labor went exceptionally well. Dr. Lamoareaux came in on his day off to attend only to me. I pushed for 10 minutes and my sweet boy was in my arms.
Did you have any funny or memorable memories with your doctor/ midwife, nurse?
Dr. Lamoreaux is such a great guy. During my labor and waiting to start pushing, he sat in my room and chatted with my husband, me and our families. He became a part of our family and we laughed and cried together all day.
Our nurses were awesome. We felt well taken care of that our every need was attended to. I remember during active labor when I was pushing, I remember all of the sudden realizing how loud it was in the room! I had my husband, mom, dad, sister, photographer, Dr. Lamoreaux, my nurse, her assistant, another assistant and two respiratory nurses (who were waiting in the wings in case my baby needed extra attention since he was 3 weeks early.) They were all cheering for me and so excited for us!
Also, because we had delivered our daughter at American Fork Hospital a year and a half earlier, there were actually quite a few nurses that were on shift during my son's delivery that was there when I delivered my daughter. They frequently dropped in to share in our excitement because they knew the heartache and struggle we went through 18 months earlier even if they were never actually assigned to help us during my daughter's delivery. They felt connected to us and we're happy to see us come full circle. It really meant a lot to us that they would reach out to us like that.
Also, Dr. Lamoreaux always took the time to hand with us at our appts and talk and get to know us. We never felt rushed. He also gave us her personal cell number because he knew my anxieties and told me that anytime I was scared or had questions that I should show up to the office or call him.
How was your recovery? Did you have any complications with your recovery?
No complications whatsoever. I felt I recovered really, really well. I was up showering and taking care of myself on my own within a couple hours. The complete opposite from my first delivery.
How was your birth story different than you imagined it to be?
Well, I never thought I'd be in the situations I've been in with my complications during pregnancy so knowing that I'll probably never go into labor on my own and will always be induced has been interesting to switch gears into. But, I am happy to do whatever it takes to get a healthy baby in my arms.
Was there a high or low point throughout your pregnancy?
I have a lot of anxiety surrounding my pregnancies because of my stillborn daughter. I frequently fear that my child is not doing well or has passed away inside of me again. Any moment I feel like its been too long since I felt the baby kick I revert to freaking out. Also, every time I had to give myself a shot was a low point which was every night. The shots are painful and not fun.
What did you name your baby? Weight and length?
Coen Earl 7 lbs 4 oz 19 inches
Any final thoughts about your experience with Valley Women's Health?
Love Valley. They take me seriously, listen to my concerns and let me follow my instincts. They help calm my anxieties and get excited with me. They feel like real people to me and take care of me. Will be going to this practice for as long as I can.